What Is DPI and How Is It Used?
DPI, or dots per inch, is a measure of the resolution of a printed document or digital scan. The higher the dot density, the higher the resolution of the print or scan. Typically, DPI is the measure of the number of dots that can be placed in a line across one inch or 2.54 centimeters.

The higher the DPI, the sharper the image. A higher resolution image provides the printer and printing device more information. You can get more detail and greater resolution from an image with a higher DPI.
A lower DPI will produce an image with fewer dots in the printing. No matter how powerful your printer is, a low-resolution image doesn't provide enough raw data to produce high-quality images. The ink will spread on the page, making the edges look fuzzy.
DPI Printing and Industry Standards
Let's review a few standards and guidelines for using DPI in printing services. Keep in mind, you'll need a better, and more capable, printer or print service to deliver higher-quality and high-resolution printing output.
1. Low-Resolution Images
Low-resolution images are considered 150dpi and less. For print, 150dpi is considered low-quality printing, even though 72dpi is considered the standard for the web (which is why it's not easy printing quality images straight from the web). Low-resolution images will have blurring and pixelation after printing.
For business purposes, low-resolution images are suitable for scanning text documents and store records digitally. Internal office communication can be reproduced with a low resolution, but anything used outside the office should be higher than 150dpi. After all, the printing quality needs to represent your business.
2. Medium-Resolution Images
Medium-resolution images have between 200dpi-300dpi. The industry standard for quality photographs and images is typically 300dpi.
For businesses, producing an external document like a brochure, a booklet, or a flyer requires 300dpi. You might be able to get away with 250dpi if you are less concerned with the quality and resolution of the printing. Any marketing material or collateral produced should be, at a minimum, 300dpi. Booklets, pamphlets, reports, and sales sheets should all be printed at 250dpi-300dpi or more.
3. High-Resolution Images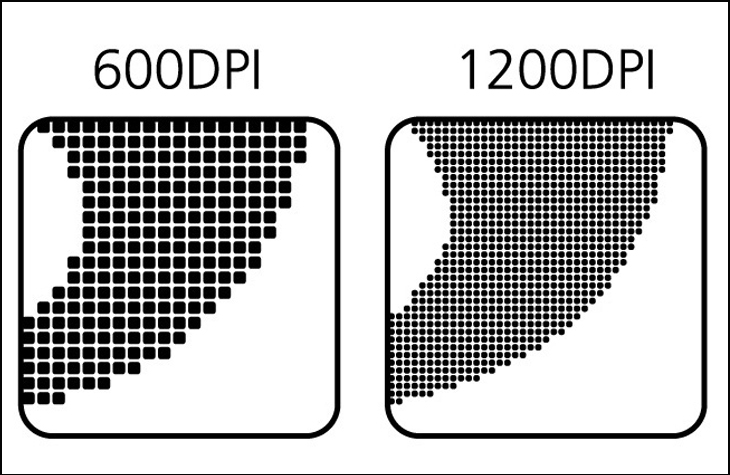 Most businesses consider 600dpi and higher to be a high-resolution image or print. High-resolution images require more memory to store and can take longer to scan. Storing high-resolution images can quickly fill a hard drive or server. Many desktop printers can't reproduce high-quality and high-resolution images. Professional print services are often the best solution for high-resolution images.
Keep in mind, there are diminishing returns for increasing the resolution of an image. Any print above 1,200dpi will deliver improvements that are practically unnoticeable to the naked eye. You won't be able to see any difference between documents. Only professional photographers or artists with highly detailed work will need a resolution that high.
Designer tool support to set image DPI 
DPI is an important factor that determines the resolution and print quality. That is why many shop owners care about this issue when they choose to purchase an online designer tool for their web2print. One of the most frequently asked questions we get from our customers is if our designer tool which is called Printcart supports setting DPI for uploaded images. 
In Printcart backend general setting dashboard, you could set up the default output resolution for your design file. 
In addition, on the backend design tool dashboard, you could set up min image resolution for uploaded images and choose to enable low-resolution images or not. With these options, you could avoid your users uploading low-resolution images which could affect the printing quality. Once your users upload low-resolution images, there will be a notification box to let them know about that. 
Our plugin was built on open source code, so we could freely customize it as per the customer's demand. From simple requests like changing the front-end design to advanced requests changing the plugin's workflow or adding new specific features. 
For example, we have a request from our customer to set up the DPI following his formula. 
So, when a user uploads images, the system will compare the DPI to the default DPI formula we set. If the image is at a lower resolution, it will give a warning messaging like this: 
Users could choose to continue if they do not care about the low printing quality or they need to change a higher resolution image. 
To sum up, this function will work like this: 
Besides this function, the customer also asked us to develop a field to help him set up the color of the front-end text to be fit with their website template. 
As you could see, the admin could set the font, text style, weight and height, size, and text color. These ones will match perfectly with your website design and text to give a neat and beautiful look. 
It was only a small feature but it showed that our customer really cared about every detail related to user experience. Sometimes, a very small change could make a really big difference. We, as a software and website development agency, also focus on every detail, even the smallest one in order to bring our customers the best solution for their businesses. 
Some words from Printcart team
Selecting the right DPI printing services and office technology is important. Dots per inch is one factor that can influence the efficiency and cost of print services. It's important to identify your business requirements and scanning and printing needs before selecting print services.
We are really happy that we have helped a lot of printing businesses by providing them the right tools to grow their businesses. Each business successfully releases their printing website and starts earning money from it that is also one of our success stories. It also inspires us to do even better and makes us feel valued. 
Contact us today for advice if you intend to start a printing business or you want to grow your business. We are very happy to become your trusted partner on the way to your success!
Lynn Jone, Digital Marketer, copywriter, and avid fan of Technology!

One of my favorite quotes is: "Strive not to be a success, but rather to be of value" - Albert Einstein.

I graduated from foreign trade university majoring in Economics. However, it took me 5 years to find my passion for Digital Marketing. With over 5-years research and over 3-years practical work experience, I am confident that I can easily what problems your website is facing and suggest the best solution for your business.

I used to be an accountant, a salesperson, a banker even a receptionist. However, I just feel to be myself when I choose to be a Marketer, especially an SEOer. I have spent a lot of time studying and learning about marketing tools like Google Analytics, Google Search Console, Ahref, Alexa, Similar Web, ... In order to understand customer behavior as well as to make a website to be on the top rank on the search tool.

"Content is king". Where advertising is about the sale, content marketing is about establishing a connection. The best content marketing will lure people to your brand and keep them coming back for more.

So let's explore the wide world of ever-increasing content, and investigate how you ensure your message is well delivered to your target customers.